Sours
Name
Description
Size
Price
Cart
Hoppy
Name
Description
Size
Price
Cart
Gift Certificate
Want to help your favorite brewery stay open so you can drink some fresh beer after all this Rona passes? Grab a gift certificate or 2 to use once this is all over. Consider it a short term investment😉.
Glass – Dessert Eagle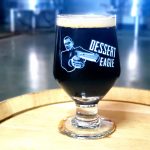 Footed Goblet depicting Bullet-Tooth Tony in all his glory! Or fill it with a colorful beer for more of a Dennis Rodman look. Your choice.
Sneaky F'N Russian – Cinnamon Whiskey
Russian Imperial Stout aged 16 months in Cinnamon Whiskey Barrels.  12% ABV      **Available for pick-up beginning Fri, Oct 30th**